News and Blog
Empowering Kenyan Livestock Farming: Sahiwal Cattle Genetics Project Officially Handed Over to Transmara Community, Narok County
By Titus Kisangau, Corporate Communications
In a significant stride towards advancing livestock-based sustainable development, the National Research Fund (NRF) and the Kenya Agricultural and Livestock Research Organization (KALRO) ceremoniously handed over the Sahiwal Cattle Genetics Project to the Lolgorian community in Narok County on August 25, 2023. The event marked a pivotal moment in Kenya's agricultural research and development landscape, as esteemed dignitaries, government officials, researchers, and local farmers gathered to witness the culmination of years of dedicated effort.
Strengthening the Foundation: NRF's Commitment to Research Excellence
From its inception following the enactment of the Science, Technology, and Innovation (ST&I) Act of 2013, the National Research Fund has been a driving force behind transformative research across all sectors of the economy. Recognizing agriculture's significant role in Kenya's development agenda, NRF has strategically supported projects that enhance food security and elevate the livelihoods of farming communities. The intersection of food crops and livestock sectors as vital components of sustenance underscores the importance of a balanced approach to agricultural advancement.
Meeting Growing Demands: The Sahiwal Cattle Genetics Project
Livestock rearing has been a cornerstone of Kenyan communities for generations. However, the demands of a rapidly evolving society have outpaced traditional practices. This disparity has highlighted the urgent need for modernizing livestock farming. By 2030, Kenya is projected to experience an increase in middle-class consumers and urban dwellers, necessitating an investment in livestock that harnesses modern technologies.
Research and Collaboration for Sustainable Progress
The Sahiwal breed of livestock, renowned for its resilience and adaptability to arid environments, has taken center stage in the effort to address these challenges. The history of Sahiwal cattle in Eastern Africa dates to the 1930s when breeding bulls from India and Pakistan were introduced to enhance milk production and growth performance. To bridge the gap between demand and supply of livestock products, NRF funded the "Smallholder Farmers Access to Improved Cattle Genetics in Kenya" project, which has now been handed over to the Lolgorian community, Transmara Subcounty, in Narok.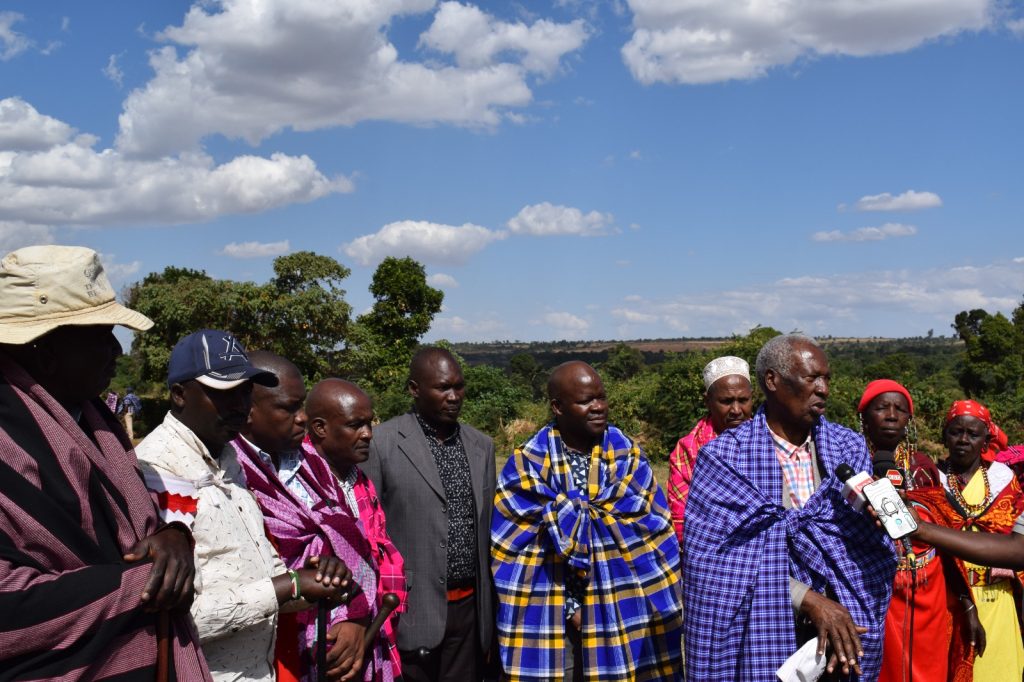 Achieving Remarkable Milestones
During the 6-year project implementation period, impressive strides were made. The first phase alone witnessed the birth and distribution of 332 superior Sahiwal artificial insemination (AI) calves among members of the community-based breeding scheme in Trans-Mara. The growing demand for AI technology signifies the potential for substantial expansion of superior Sahiwal genetics, including high-quality semen, heifers, and bulls. Moreover, 4,234 Sahiwal cows and bulls were pedigreed and registered, leading to a threefold increase in their market value.
Uniting for Livestock-based Sustainability
In his speech, Professor Ratemo W. Michieka, Chairperson of the NRF Board of Trustees, emphasized the urgent need to collaborate and upscale the Sahiwal cattle program. He highlighted the dwindling state of rangeland and grassland ecosystems and stressed their potential as valuable assets if managed sustainably. The impacts of climate change further underscore the necessity for intensified research and development to bolster livestock production against emerging challenges.
Harnessing Advantages for a Brighter Future
Amidst the challenges faced by livestock farming, optimism prevails. Kenya possesses abundant land, a diligent workforce, entrepreneurial skills, and a wealth of traditional knowledge, all supported by advancements in science and technology. If these resources are harnessed effectively, the nation can achieve self-sufficiency in food production while contributing to domestic and export markets.
Paving the Way Forward
The handover of the Sahiwal Cattle Genetics Project stands as a testament to Kenya's commitment to agricultural research and development. The collaboration between NRF and KALRO, driven by the shared vision of food security, offers a glimpse into the potential for positive transformation. As stakeholders join forces to address challenges and leverage opportunities, the future of Kenyan livestock farming shines bright with promise.